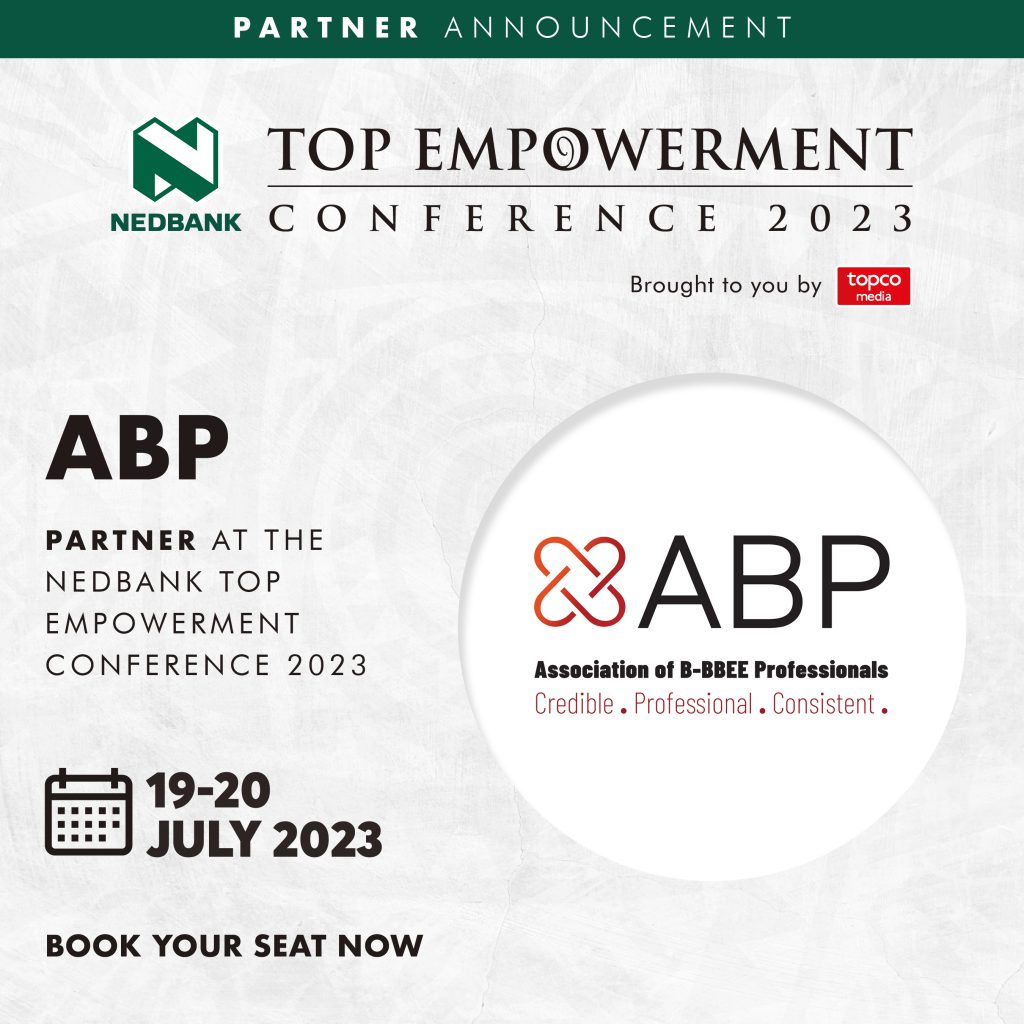 We are thrilled to share some incredible news with all our valued Members. ABP is proud to announce our strategic partnership with the prestigious Nedbank Top Empowerment Conference, a transformative event that brings together industry leaders, visionaries, and change-makers who are passionate about empowerment and economic growth.
At ABP, we have always been at the forefront of driving positive change in South Africa, and this collaboration with TOPCO for the Nedbank Top Empowerment Conference aligns perfectly with our Mission. As a trailblazer in the BEE landscape, ABP has played a pivotal role in shaping legislation and advancing the BEE profession. We have continuously evolved to stay ahead of the curve, enabling us to provide comprehensive coverage of business, financial, and social developments in the country.
Join us in Sandton on the 19th-20th July 2023 for this extraordinary event that promises to be a game-changer. The Nedbank Top Empowerment Conference offers a platform for inspiring discussions, valuable insights, and meaningful collaborations. This is a unique opportunity to connect with like-minded professionals, gain invaluable knowledge, and equip yourself with the tools necessary to thrive in today's dynamic business landscape.
Event Date: 19th-20th July 2023
Location: Sandton
Tickets: There are 50 free virtual tickets available (first come first serve basis) and all other Members will receive a 20% discount for in-person ticket purchases.
Attendance at this event awards you with 5 CPD points!
We look forward to welcoming you to this exceptional event. Together, let's shape the future of empowerment, drive sustainable change, and make a lasting difference in South Africa.
Thank you for being a part of the ABP family, and we can't wait to see you at the Nedbank Top Empowerment Conference!
#ABP #Topco #NedbankTopEmpowermentConference #EmpowermentMatters #DrivingChange #SouthAfrica
Kind Regards,
Yolandi Venter