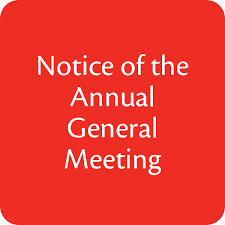 ADear Member,
Notice is hereby issued in terms of Section 8 of the ARTICLES OF ASSOCIATION OF THE ASSOCIATION OF BEE PROFESSIONALS (ABP) NPC(Registration Number: 2005/027643/08)
NO VENUE (no face-to-face AGM), due to current Corona Virus COVID-19 pandemic Please register to join using our GoToWebinar platform (for current ABP Members in good standing only, please do not share with any non-ABP Members)
Agenda ABP 06th AGM (non-elective);
Minutes of the previous AGM held Wednesday, 26 August 2020;
Presentation of a summarised form of Audited Annual Financial Statements (AFS), 31 December 2020 and
ABP Resolutions.
Your attendance will be appreciated. Kindly register NO later than close of business Monday, 31st May 2021
Input, concerns, suggestions are welcome before the AGM so this can be addressed during the AGM.
Thank You to Members who have registered for the upcoming AGM!
With Kind Regards,