COVID-19 concerns may be sent to covid-19@abp.org.za

Unite and continue preaching and practicing social distancing, washing hands frequently and using alcohol-based sanitizers.
Summary of Level 1 Regulations (as of 01 October 2021)
For COVID-19 updates, visit official government website www.sacoronavirus.co.za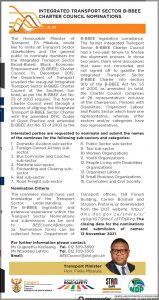 NominationFormCharterCouncil_2021 TRANSPORT SECTOR B-BBEE COUNCIL
📣 📢 a call for Transport Sector B-BBEE Council Members,
Nominations and submissions can be sent to BEECouncil@dot.gov.za
Nomination forms can be downloaded at www.transport.gov.za or
collected from DOT offices, 159 Forum Building, corner Bosman and Struben Street, Pretoria
The Association of B-BBEE Professionals (ABP) is established to lead the Broad-Based Black Economic Empowerment (B-BBEE) Verification and BEE Consultancy industry as it takes up a vital role in the transformation of the South African economy. The first and only industry Professional Body of its kind, the ABP aims to facilitate the accreditation of qualifying BEE Verification Agencies as set out in the Codes of Good Practice.
The Economic Empowerment Professional (EEP) designation is a nationally recognised designation awarded to the BEE Professionals practicing in the field either as BEE Verification Professionals, BEE Consulting Professionals and Corporate Transformation Managers and Practitioners affirming their astute knowledge and skills in the understanding and application of the Codes of Good Practice on B-BBEE. The designation is awarded to experienced persons who have also successfully completed the B-BBEE Management Development Program (MDP) which is a post graduate programme offered by UNISA and Wits Business Enterprise
ABP SAQA PB certificate PB000010
SAQA-approved Professional Body ID number 1002
SAQA 26 March 2020 Government Gazette Policy and Criteria Registration Qualifications as amended 2020
SAQA 2020 Policy and Criteria Registration Qualifications and Part-qualifications
SAQA 2020 Policy and Criteria for Professional Bodies
CHE Good Practice Guide September 2016 UNISA
Contact Person: Maresce de Saldanha
E-mail Address: info@abp.org.za
#BBBEEAwareness
#BBBEESavvy
#BBBEE